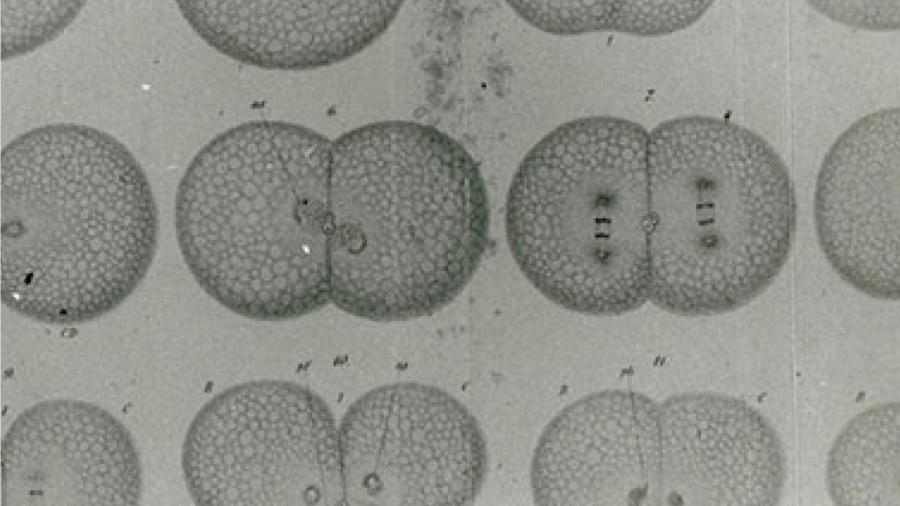 Embryo Project showcased History of Science at Night of the Open Door 2015
Spin the wheel and name the embryo, or build your own model embryo.
On Saturday, February 28, from 4:00 to 9:00pm, the Embryo Project (EP) engaged audiences of all ages at this year's Night of the Open Door on ASU's Tempe Campus.
Activities were designed to show how embryo research in the past influences how we conceptualize embryos today.
EP team leaders Erica O'Neil and Alexis Abboud rousted the crowds to their part of the School of Life Sciences showcase, where they had two activities waiting: an embryo prize wheel and a 'build an embryo out of clay' station.
Alexis and Carolina Abboud with the Embryo Wheel
Joined by president's professor Jane Maienschein, EP editor in chief Steve Elliott, and EP members Federica Turriziana Colonna, Carolina Abboud, and Nevada Wagoner, the team encouraged visitors to spin a prize wheel covered in pictures of embryos of different species. If they guessed the species, they got a prize.
Speaking about his EP team, Elliott proclaimed, "Erica is a master at organizing these kinds of events, and she put together a perfect team to interact with everyone from age 2 to age 75."
Many embryos are too small to see, so the team treated visitors to a hands-on modeling station where they talked about the structures and functions of one-month old embryos and showed people how to make embryos out of clay--a souvenir they were encouraged to take with them.
Nevada Wagoner and Erica O'Neil at the 'Build an Embryo' station
Elliott said of the evening, "The event was a blast. Adults were making clay embryos just as much as kids were. People were astounded by how similar embryos from different species look. And everyone loved the trading cards and stickers, walking away with enough to share with their friends."
The EP team spoke with hundreds of visitors during the event, and gave away Embryo Project stickers and trading cards as prizes.
The activities and prizes were designed to connect people with the Embryo Project Encyclopedia, an online Open Access publication that increases scientific literacy in non-specialist audiences about reproductive medicine, developmental biology, and embryology.
Thousands of people attended this year's Night of the Open Door on Tempe campus, and the organizers did a tremendous job of making it an incredible experience for all those involved.
When asked about the experience of the Embryo Project team and the prospect for future events, Elliott asserted, "We definitely look forward to participating in next year's Night of the Open Door."
This was the fourth year that ASU partnered with the Arizona SciTech Festival to put on Night of the Open Door.
More information:
Kate MacCord
kmaccord@asu.edu