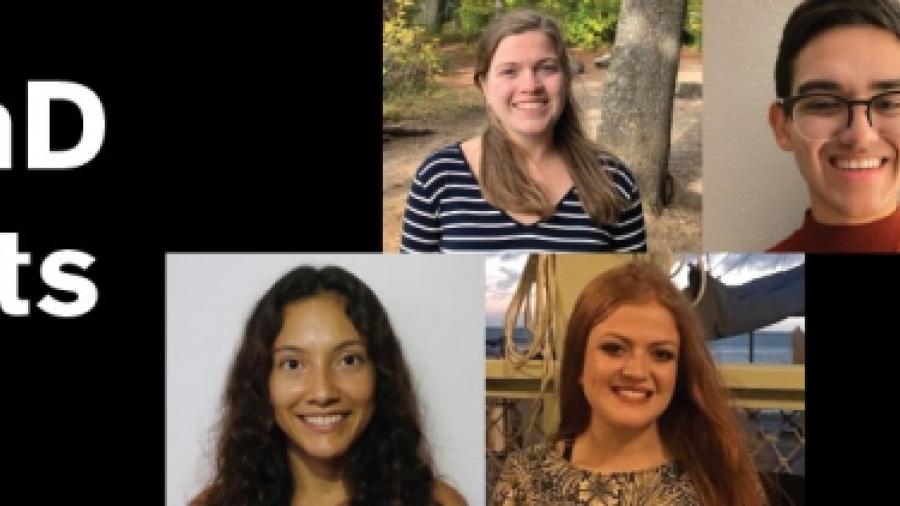 Welcome New Biology and Society PhD Students!
The Center for Biology and Society is delighted to welcome a new group of PhD graduate students to the 2020 academic year. Read about their research interests, backgrounds, hobbies, and much more!
Carly Busch
Carly Busch, a first-year student in the Biology and Society PhD program and an NSF grant recipient, is currently working in Sara Brownell's lab studying Biology Education. She graduated in 2015 with a BA in Biology from Whitman College in Walla Walla, Washington. Carly is particularly interested in understanding how we teach biology, how students' identities influence their experiences in the classroom, and how we can reshape our classrooms to make them more inclusive for all of our students.
During her free time, Carly enjoys baking bread, running, and spending time outdoors. After completing her degree, she hopes to continue studying how we can make undergraduate biology spaces more welcoming and inclusive, as well as implement those practices in her own courses.
Luis Gutierrez
As a first-year student in the Biology and Society PhD program, Luis Gutierrez graduated from Arizona State University in 2020 where he received his Bachelor's degree in Conservation Biology and Ecology. As an undergraduate student, he worked with Dr. Ann Kinzig to research the various barriers that keep non-White students from entering into the environmental field.
Broadly, Luis is interested in coupled human-environment interactions, especially in how they relate to equity and conservation. Currently, his research relates to using IUCN Red List methodology to assess coral reef ecosystems and identify their risk of collapsing. In the future, Luis hopes to make a strong effort towards improving conservation in Latin America as well as in other countries.
Va'Trelle Stokely
Va'Trelle Stokely is a first-year PhD student in Biology and Society where he is co-advised by Dr. Krijn Paaijmans and Dr. James Collins. Va'Trelle came to ASU from San Jose State University, where he graduated in 2020 with a BA in Biology, a minor in Chemistry, and a second minor in Humanities. Currently, Va'Trelle is interested in studying mosquito-transmitted diseases and novel techniques to reduce the impacts of similar ailments on public and global health.
When he is not engaged in his coursework or tutoring students, he enjoys hiking, improving his foreign language skills, learning about history, and maintaining a travel blog. Va'Trelle is living in Japan for the fall semester, where he is currently immersed in the country's language, culture, and history. After he graduates, Va'Trelle is open to beginning a career with the Centers for Disease Control and Prevention, United Nations, World Health Organization, or furthering his education by attending medical school so that he can make a more hands-on impact when it comes to improving community health.
Paola Sangolquí
From Santa Cruz Island, Galápagos, Ecuador, Paola Sangolquí is currently a first-year student in the Biology and Society PhD program. In 2016, Paola received her BS in Marine Biology at Escuela Superior Politécnica del Litoral in Ecuador, and since then she has been working with Dr. Leah Gerber researching biodiversity conservation and management in the Galápagos Island.
Paola is interested in the relationship between ecological conservation and human wellbeing. She states that her goal is to develop monitoring protocols and link the data obtained with protected areas management objectives to assess structured decision-making processes. She is particularly interested in marine and coastal habitats and how overfishing, climate change, tourism, marine pollution and other human related activities are affecting them in order to promote proper science-based management decisions.
Alexis Darby
Alexis Darby is now working towards her third Biology and Society degree at ASU. She completed her Bachelor's in 2019 and Master's in 2020. Currently in the first year of her doctoral studies, Alexis is working under advisement of Dr. Emma Frow. Alexis is interested broadly in the applications of consciousness and intelligence as means of giving agency to non-human technologies and animals. Her previous research has focused on the ethical and policy implications of controversial emerging technologies.
Outside of her studies, Alexis enjoys tending to her patio garden, spending time with her fiancé, and raising foster kittens. Once she graduates with her PhD, Alexis hopes to obtain an industry job in clinical research management or medical writing, while preferably working somewhere close to a beach.