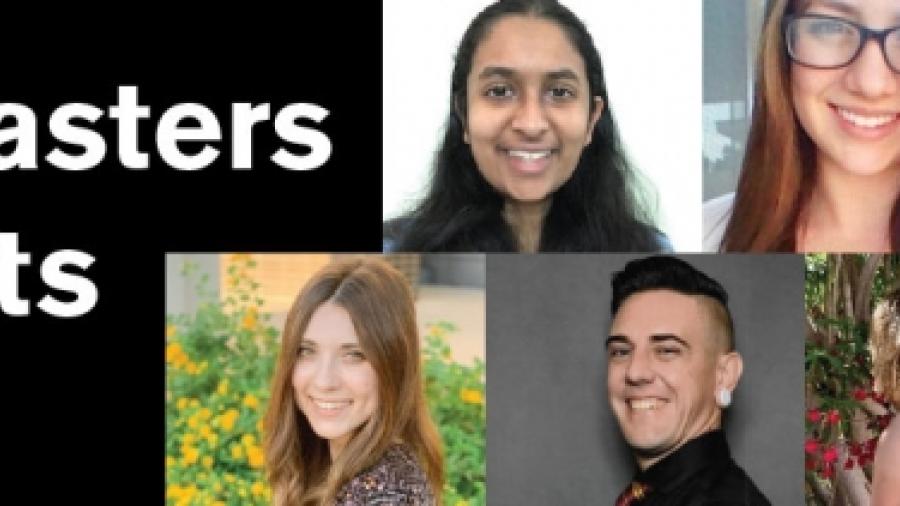 Welcome New Biology and Society Master's Students!
The Center for Biology and Society is delighted to welcome a new group of Master's students to the 2020 academic year. Read about their research interests, backgrounds, hobbies, and much more!
Richa Venkatraman graduated from ASU in 2020 with her Bachelor's degree in Biology and Society and is now continuing her education in the Biology and Society MS program. Upon graduating with honors from Barrett, The Honors College, Richa wrote her honors thesis on informed consent laws for abortion under the direction of Dr. Jane Maienschein. Richa has been involved with the Embryo Project as a student researcher since fall 2018.
Furthermore, during her time as an undergraduate student, Richa has been a contributing member of the ASU Ethics Bowl team. In addition to her studies, Richa is currently an Editorial Manager at MuggleNet.com, the world's #1 Harry Potter fansite. During her free time, Richa enjoys reading, creative writing, and occasionally playing the guitar.
Having recently graduated with a BS in Biochemistry and another BS in Biological Sciences: Neurobiology, Physiology and Behavior from ASU and Barrett, The Honors College, Whitney Tuoti has high hopes for what she will accomplish during her time as a Master's student. Whitney states that once she became a student for the Center for Biology and Society, she has since been provided with continuous support that has helped her flourish in her academic endeavors.
In Spring 2019, Whitney became a student writer and editor for the Embryo Project, and later with the guidance and support of Dr. Jane Maienschein, she used that research to write and successfully defend her honors thesis on how purported failures have led to scientific advancements in IVF treatment. Currently, Whitney is focused on writing her Master's thesis on the various policies, steps, and potential roadblocks infertile men and women might face when seeking treatment at an IVF clinic. She notes that she ultimately wants to write a thesis that has the ability to make a lasting and positive impact on those who read it. During her free time, Whitney enjoys spending time with her family and friends, playing the piano, reading a new book, and sitting outside in nature.
Having previously earned a BS in Molecular Cellular Biology, a BHS in Physiology, and an MPH with a concentration in Health Services Administration from the University of Arizona, Chan Lwin is unusually accomplished when it comes to her studies. Chan, a student in the Bioethics, Policy, and Law program, is interested in the intersection between genetics and citizenship. She currently works at ASU's Center for Asian Research and teaches Burmese to students at ASU and UW-Madison.
Apart from traveling and learning languages, Chan enjoys volunteering during her free time. She states that during her time at ASU she hopes to deepen her understanding of how genetics plays a role in citizenship eligibility, as well as the ways in which different countries are using this information to shape biopolitics and biopower.
Emily Santora is a first-year student in the Biology and Society Master's program. In December 2018, Emily earned her Bachelor of Arts degree in Global Health and a minor in Women and Gender Studies from ASU. She became involved with the Embryo Project Encyclopedia in 2018. Under the direction of Jane Maienschein, Emily researched endometriosis while she was a student for the Embryo Project, and later used that research to write her honors thesis on menstrual hygiene management and endometriosis in low-income countries.
As a graduate student, Emily hopes to expand her interests in the history and culture of female reproductive health and is currently working on girls' menstrual education experiences within the US. During her free time, Emily enjoys traveling, learning about different cultures, and visiting museums.
Kenneth Carroll, a solider turned scientist, received his Bachelor's degree in Biology and Society from ASU and is continuing his academic adventure as a first-year student in the Biology and Society MS program. His current research is focused on investigating the possible presence of microplastics and their leeched contaminates in Antarctic soil.
Kenneth enjoys volunteering at Saguaro State Bull Terrier Rescue and spending time with nature. With the continued love and support from his mentors, friends, and family, Kenneth will continue his dive down the academic rabbit hole, pursing a PhD studying environmental chemistry in Antarctica after he receives his Master's degree.
After graduating with her Bachelor's degree, Isabella De Leon is now in her last year as a Biology and Society 4+1 Master's student. She is now conducting research under the guidance of Kevin Hultine and the Desert Botanical Gardens on Saguaro cacti water allocation. Together, they are hoping to better understand how cacti decide whether survival or reproduction is more important. Isabella states that she picked this topic for her research project due to the fact that she is from Tempe, Arizona, where she has lived her entire life. She continues to state that Saguaro have always been a part of her life, and because of that she wants to know more about them.
Additionally, Isabella is currently aiming to study how human behavior is affecting the surrounding Sonoran wildlife and landscape. She is hoping to find a way to compromise with an expanding society and a suffering wildlife. Isabella's hobbies used to include having movie nights with her friends and hikes with her mom, however, she states that lately it has been increasingly difficult for everyone to get together. Because of that, her hobbies now include reading new books that have been sitting on her shelf for the past few years, as well as catching up on some new Anime shows that her friends have recommended to her.