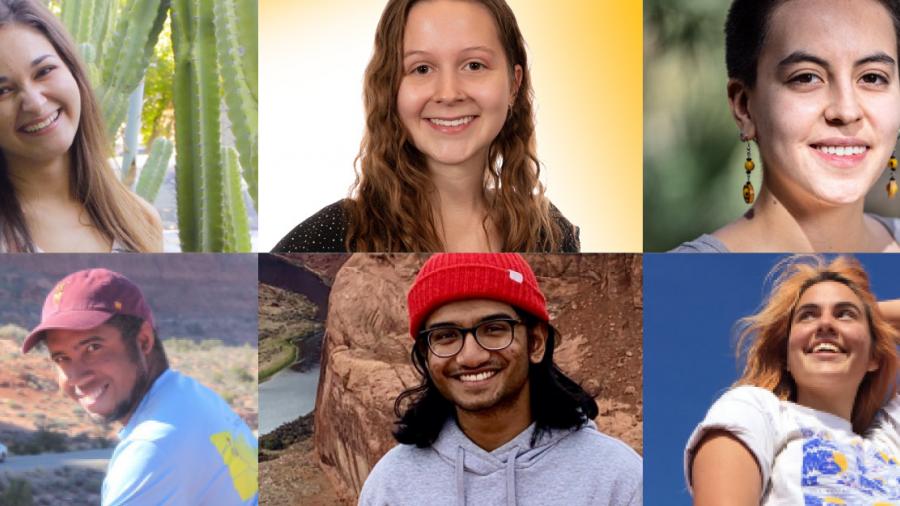 Welcome New 2021 Biology and Society Graduate Students
Author: Risa Aria Schnebly
The Center for Biology and Society is delighted to welcome a new group of PhD graduate students to the 2020 academic year. Read about their research interests, backgrounds, hobbies, and much more!
---
Daniel Bisgrove
I'm a first-year PhD student starting in the 4E program. I completed my B.S. degree at ASU in Biology & Society and am excited to continue working with the Center and its dedicated faculty and staff for my graduate experience. Through experiences in the zoo and aquarium field, including at the Phoenix Zoo, I've developed an interest in the history, future, and ethics of zoos. This interest has led me to work with Dr. Ben Minteer as I set out to understand the historical context and ethical effect of zoos.
---
Baylee Edwards
I am pursuing a master's degree in Biology and Society as a part of ASU's 4+1 program. I am currently working with Dr. Sara Brownell to explore the experiences of Christian students during peer discussions in undergraduate biology courses. I also work with Dr. Doug Lake to collect participant blood samples for his COVID-19 neutralizing antibody studies. Finally, I am working with Dr. Michael Angilletta and a team of other ASU instructors to develop an introductory biology curriculum that is aligned with an initiative called Dreamscape Learn, which incorporates virtual reality into students' learning. In my free time, I enjoy hiking and spending time with friends and family. 
---
Kara Gardner
I am a 4+1 accelerated master's student in the Bioethics, Policy, and Law program. I graduated from ASU with my B.S. in Biology and Society and a minor in Justice Studies this past May (2021). My undergraduate thesis entitled "Men's Perspectives on Masculinity" focused on understanding men's experiences with challenging and replacing traditional (toxic) masculinity with alternative and/or novel masculinities. Currently, I am about a year into my master's and work with Drs. Ben Hurlbut and Jenny Brian. My research now focuses on understanding men's understandings of and experiences with contraception––both the contraception their partner(s) use and the possibility of equivalent male contraception. 
---
Camila Guerrero Pineda
I am a first-year PhD student in the 4E track. I earned my degree in environmental engineering at Universidad de los Andes (Colombia) and my master's degree at Universitat Autònoma de Barcelona (Spain). I am a member of Leah Gerber's Conservation Innovation lab, researching decision-support tools for conservation. I am interested in biodiversity conservation, and how we can make it more efficient. My goal is to develop decision support tools to reconcile human needs with their impacts on biodiversity.  
---
Teal Guetschow
I am a first year PhD student in the Biology and Society 4E program. I earned my bachelor's and master's degrees in Conservation Biology from the University of Wisconsin-Madison. Prior to coming to ASU, I worked for an environmental consulting company on a USAID project aiming to improve biodiversity conservation while also achieving development outcomes through the use of innovative and adaptive approaches.
I am working with Dr. Ann Kinzig and Dr. Jesse Senko to explore the ecological, social, and political enabling conditions for effective conservation outcomes that acknowledge tradeoffs with development outcomes. Specifically, I will examine what factors influence fisher acceptance, adoption of innovative approaches and new marine policies to reduce bycatch while sustaining or enhancing traditional livelihoods, food and nutritional security, and ecological outcomes. 
Like most others in this program, I am an outdoor fanatic, but also a mid-century furniture restoration enthusiast!
---
Jarrett Joubert
I am a first-year PhD student in the Biology and Society program with the intention to follow the History and Philosophy of Science track. A native of Houston, TX, I have been enjoying the beautifully scenic desert landscapes of the Southwestern United States since arriving at ASU. Prior to beginning doctoral study, I worked for the Center for Cell and Gene Therapy at Baylor College of Medicine. I hold a Bachelor of Arts in French from Grinnell College and a Master of Arts in Biology from Washington University in St. Louis. I am broadly interested in knowledge production in the biological sciences (especially molecular and cell biology), the social contexts in which scientific discoveries occur, and how scientific power functions and is maintained in global society. Currently, I do research under Drs. Emma Frow and Jane Maienschein on a project focusing on the use of synthetic cells in biology.
---
Vinit Karkathar
After receiving my B.S. in Biomedical Sciences and B.A. in Philosophy from ASU, I entered the Biology and Society M.S. program as a two-year master's student. I works with Dr. Beckett Sterner on species concepts and evolutionary theory in RNA viruses. Currently, I'm interested in the Quasispecies concept and applying it as a scalable model using complex systems methods to better frame certain questions about the evolution of cooperation. I currently write for the Embryo Project Encyclopedia and will begin working as a publishing assistant for the Encyclopedia in Spring 2022. In my spare time, I enjoy outdoor activities such as backpacking, hiking, running, gardening, and rock climbing.
---
Risa Aria Schnebly
I am a first year PhD student in the Biology and Society program. I work with Dr. Ben Minteer to explore how humans understand the concept of extinction, and how that concept informs the way we relate to non-human species. I also work with Dr. Jane Maienschein as a managing editor of the Embryo Project Encyclopedia and as an instructor for the Encyclopedia's writing seminar, teaching undergraduate and graduate students to communicate science to a broader audience. 
I hope to continue in academia after obtaining my PhD to continue writing about the way humans relate to nature and understand their place in this world.
---
Nicholas Wiesenthal
I am a first-year PhD student in the Biology and Society program currently working in Katelyn Cooper's Biology Education Research Lab. I graduated just a few months ago with a bachelor's degree in biology from the University of Central Florida in Orlando, Florida. My research broadly focuses on understanding how mental health affects students in both biology learning and research environments. Specifically, I have been researching ways to make biology research and learning spaces more inclusive by examining the experiences of graduate students with depression and anxiety as well as the experiences of students who hold concealable stigmatized identities within graduate school programs. As a PhD student, I hope to continue learning ways we can potentially make graduate and undergraduate biology spaces more inclusive and equitable for students who hold different identities.