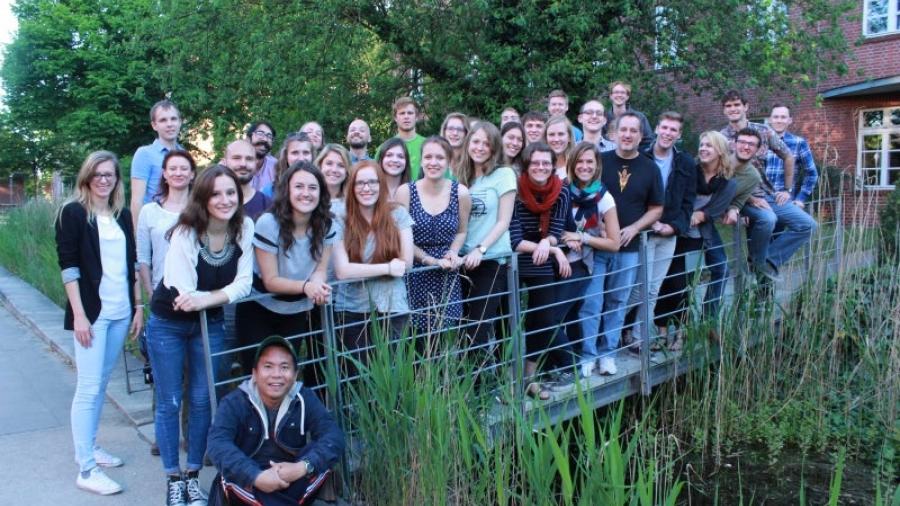 ASU-Leuphana Global Classroom Comes to a Triumphant Conclusion
Global classroom ends with final lessons on interdisciplinarity and working across cultures.
On June 1, 2015, six teams of undergraduates from ASU and Leuphana University in Lüneburg, Germany, presented the results of their group research projects in a public lecture hall at Leuphana.  The teams were all members of the "Global Classroom"--an innovative and experimental class developed between ASU and Leuphana University.
Directed by Sustainability Professor and Dean Daniel Lang from Leuphana and Manfred Laubichler from ASU, the Global Classroom has run for the past three years and involved two cohorts of students. Each cohort of students participated in the class for 18 months, during which time the group travelled to ASU in the fall and then to Leuphana in the spring.  
The entire project revolved around a single theme: "Sustainable Cities:  Contradiction in Terms?" in order to draw across the many disciplines of sustainability science to address real world problems. This problem-oriented research and learning has been repeatedly emphasized by ASU president Michael Crow and is a core tenet of the ASU Charter.
 Guido Caniglia and Christopher Rojas from ASU, along with Beatrice John and Leonie Bellina from Leuphana served as the instructors, orchestrating the complex pieces of the program.
The final team presentations were the culmination of all that work by student groups working with their faculty coaches.  The project titles show the range of different topics and approaches:

"Feeding growing urban populations: A historical analysis in consideration of future scenarios" (with Professors Manfred Laubichler and Sander van der Leeuw, and Leonie Bellina)
"Mold in residential housing: Influences of income, education, and living conditions" (with Professor Jane Maienschein and Beatrice John)
"Putting down roots – forcibly displaced people in Urban Gardens" (with Professor Henrik von Wehrden and Christopher Rojas)
"Sustainability 2.0: Promoting sustainable behavior with social media?" (with Professors Ulli Vilsmaier and Thomas Dörfler, and Guido Caniglia)
"Sustainability aspects of public transport stations: Problem analysis, visions and strategies" (with Professor Daniel Lang and Guido Caniglia)
"Parks and open spaces: the value of urban infrastructure for children" (with Professors Richard Creath and Ben Minteer, and Beatrice Johns)
Technology, travel, transdisciplinary and transcultural education:  all presented challenges, which these instructors and faculty members overcame by seamlessly reaching across disciplines.  
Now that the classroom portion has come to a close, the work continues as the instructors and faculty continue to analyze and interpret the results of this cross-border experiment, and develop training manuals that will allow others to implement this type of educational venture. 
More information:
Guido Caniglia
guido.caniglia@leuphana.de